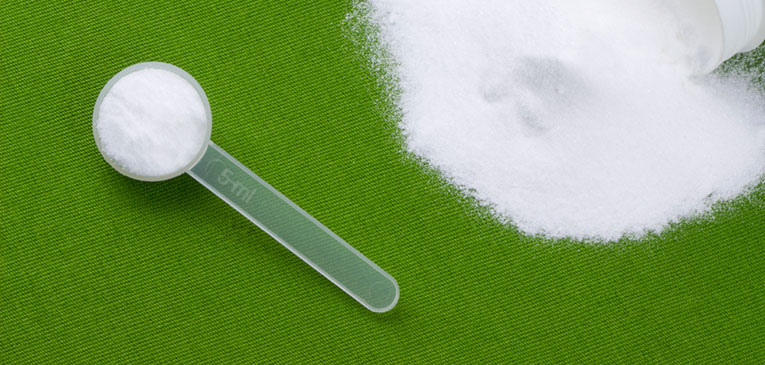 A creatina para WODs curtos
A creatina é produzida naturalmente pelo corpo e encontrada facilmente em alimentos consumidos diariamente, como carne de boi, frango e peixe (melhores fontes). O objetivo de suplementar a creatina é aumentar a força e melhorar o desempenho esportivo. Consequentemente, o atleta tem o efeito da hipertrofia muscular, uma vez que consegue aumentar as cargas e estar recuperado mais rapidamente para a próxima sessão de treinamento, inclusive no crossfit.
O aumento dos estoques de creatina fosfato no músculo permite ter mais energia disponível e, sobretudo, melhorar a recuperação entre o esforço físico rápido de alta intensidade, como é característica dos treinos de crossfit.
No organismo, a creatina fosfato repõe o ATP gasto durante as contrações musculares. Portanto, quanto maior a quantidade de creatina fosfato, maior será a capacidade de realizar esforço físico durante mais tempo.
Durante os WODs de curta duração e alta intensidade, é necessária energia imediata e efetiva. No organismo, conseguimos essa energia através do ATP – CP: o ATP e a creatina fosfato armazenados dentro do músculo.
A forma de administração mais estudada e que se mostra eficiente é a creatina mono-hidratada. A dose usual varia de 3 a 5 gramas por dia, antes ou após o treino. Neste caso, o nutricionista deve avaliar a alimentação e intensidade de treino do indivíduo para ajustar a suplementação.
REFERÊNCIAS:
KIM, J.,; LEE, J.; KIM, S.; YOON, D.; KIM, J.; SUNG, D.J. Role of creatine supplementation in exercise-induced muscle damage: A mini review. Journal Exerc Rehabil, 11(5):244-50, 2015.
SILVEIRA, C.L.; SOUZA, T.S.; BATISTA, G.R.; ARAÚJO, A.T.; SILVA, J.C.; SOUSA, M.S.; MARTA, C.; GARRIDO, N.D. Is long term creatine and glutamine supplementation effective in enhancing physical performance of military police officers? Journal Hum Kinet, 43:131-8, 20124.